Cards for Kids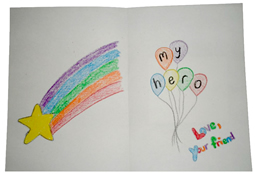 Thank you for your interest in participating in the Cards for Kids Program. The program enables children to make cards for children with cancer. Team Will will distribute them while we are visiting hospitals during GO THE DISTANCE 2016 from June 22 – July 2, 2016. With your help, we will deliver THOUSANDS of cards to our Team Will Heroes in hospitals across the country while we ride in June and July to raise money for childhood cancer.
Three Steps to make a difference in the lives of our Heroes:
1) Tell others about our program
Use social networks to help us spread our message and reach our goals.
'Like' us on Facebook
Send an email to
info@teamwillcharity.org
to let us know how many cards you will be sending
2) Make the Cards
The primary message on the cards should be "You are my Hero!". Please be very sensitive with other messages. The cards are going to children with cancer and other diseases. While they are genuine thoughts of the children writing them, messages like "get well soon" and "hope you get out of the hospital" can be challenging, as some kids realize that may not be likely. If you're not sure if a card is appropriate, please send it to us, as we will review all of the cards before handing them out.
Cards should be made using 9 x 12 (or smaller)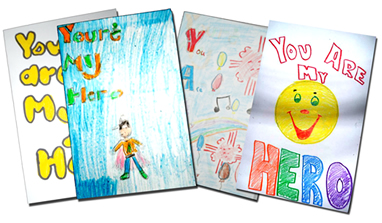 cardstock or construction papers, folded in half or thirds. Post card size is great too. The key phrase of each card shoule be "You are my hero."
Good messages:
You are my Hero
Stay strong
I like books, math, music, etc. Do you?
Messages to avoid:
Get well soon
Hope you get out of the hospital
Beat cancer
Have the kids decorate the cards in any manner they want.
3)Send the cards in
Mail the cards to:
Team Will
4119 McKinley Blvd.
Sacramento, CA 95819